About CRRE
CRRE Mission
The Center for Retail Real Estate is a comprehensive learning and development resource for the retailing and shopping center industry. Our focus is on the transformative change impacting shopping centers of every size and style, and how developers and owners can successfully navigate the challenging times ahead.
CRRE is designed as a truly collaborative knowledgebase . . . incorporating the best of ideas of industry experts, academic authorities and municipal officials – all of whom are committed to the role of retail in the successful economic development of their communities. We believe that solutions reside not in the hands of any one developer – no matter how prominent or successful – but rather on an informed consensus among all participants in progressive retail development.
The CRRE website will showcase a panoply of exciting ideas, case studies and research finding which will help determine a positive pathway forward for all participants in retail real estate – developers, retailers, investors, government officials and community leaders. All have a vested interest in sound, progressive retail development which fully engages consumers and the communities in which they reside.
About Eric Hertz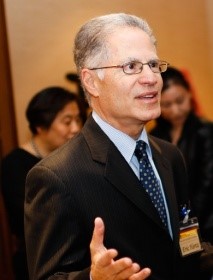 Eric Hertz, MS, CAE, is President of the Center for Retail Real Estate, a comprehensive learning and development resource for the retailing and shopping center industry. Prior to launching CRRE in January 2016, Eric was Senior Vice President of Education and Organizational Development for the International Council of Shopping Centers, the premier global trade association of the shopping center industry. While at ICSC, he was responsible for directing a broad range of educational programs and certification initiatives for ICSC's membership of over 60,000 industry executives worldwide, as well as an extensive range of internal training programs for ICSC's senior executives and mid-level managers.
Before joining ICSC in 2013, Eric was President of the Center for Executive Development, a consulting firm specializing in high-level executive education programs for retailers, apparel companies and industry associations.  CED has produced and managed extensive training programs for such leading retail organizations as Brooks Brothers, Calvin Klein, Phillips-Van Heusen, Nautica and VF Corporation. These programs contributed to measurable growth in organizational productivity, store manager performance and overall retail profitability.
Prior to founding CED in January 2010, Eric served for six years as Director of Executive Education at the Fashion Institute of Technology (FIT) in New York City, a State University of New York (SUNY) campus, where he built and managed a broad-based program for senior executives in the fashion and retailing industries. Eric has also served as President and Executive Director of The Fashion Association, an educational and marketing consortium of major retailers and apparel companies; and vice president of marketing for the American Apparel and Footwear Association.
Eric holds the credential of "Certified Association Executive" from the American Society of Association Executives and is a Board member of the New York Society of Association Executives. Eric also serves on the Board of Directors of Advertex Communications, Inc., the internal advertising agency of Macy's Inc.; the Advisory Board of the International Trade and Marketing Department at FIT, and the Consumer, Apparel and Retail Studies Department at the University of North Carolina at Greensboro.
Eric graduated cum laude from Yale University with a BA in English literature. He received an MS in journalism from Syracuse University and did postgraduate work in publishing at Stanford University.
Contact:
Eric Hertz, MS, CAE
President
Center for Retail Real Estate
(516) 214-0130
ehertz@retailrecenter.com