Shopping centers are evolving into true community centers . . . incorporating the full panoply of human needs and desires.   Liberty Center, a fully integrated lifestyle community opened by Steiner + Associates and Bucksbaum Retail Properties just outside Cincinnati last October, incorporates the full spectrum and spontaneity of urban living in the easily accessible suburb of Liberty Township, midway between Cincinnati and Dayton. More than 800,000 square feet of retail, restaurants and entertainment anchor Liberty Center, which also features office space, apartments and a hotel.
According to Yaromir Steiner, Chief Executive Officer of Steiner + Associates, Liberty Center represents "the next evolution of the town center."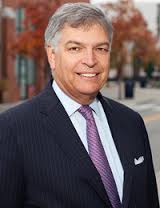 "You have to create a place that will become the center of people's lives."
Yaromir Steiner, chief executive officer of Steiner + Associates
Health and wellness is the center's predominant theme. In addition to a broad complement of retail and dining offerings, Liberty Center incorporates a range of community gathering spots and social settings; parks and themed outdoor spaces; a Children's Discovery Center, band shell; and spiritual amenities such as a chapel and meditation space. In addition, the Center will host an array of health and wellness initiatives directed by a Cincinnati area hospital and health care provider.
"We want visitors to explore and engage with the project," he explains. "At a time when shoppers have more options than ever before, we need to give them a reason to come–and to stay." Liberty Center's design reflects the understanding that experiential environ­ments add value to the shopping experience–and that a compelling destination is about delivering products, services and experiences that you cannot find online. As Easton Town Center has shown, people will travel to visit, and 'just be' somewhere special.